Who Will Win, And Who Should Win, At This Year's Oscars
Best Picture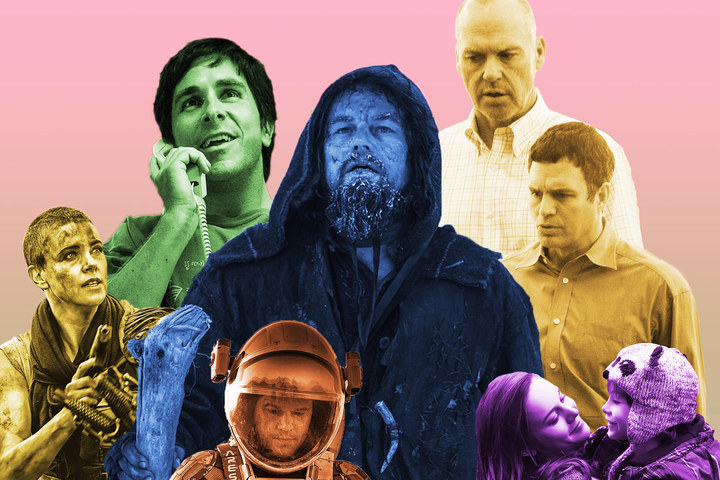 Photo illustration by Jared Harrell / BuzzFeed News; Photos: Warner Bros., Paramount Pictures, 20th Century Fox(2), Open Road Films, A24 Films
Nominees
The Big Short, produced by Brad Pitt, Dede Gardner, and Jeremy Kleiner
Bridge of Spies, produced by Steven Spielberg, Marc Platt, and Kristie Macosko Krieger
Brooklyn, produced by Finola Dwyer and Amanda Posey
Mad Max: Fury Road, produced by Doug Mitchell and George Miller
The Martian, produced by Simon Kinberg, Ridley Scott, Michael Schaefer, and Mark Huffam
The Revenant, produced by Arnon Milchan, Steve Golin, Alejandro G. Iñárritu, Mary Parent, and Keith Redmon
Room, produced by Ed Guiney
Spotlight, produced by Michael Sugar, Steve Golin, Nicole Rocklin, and Blye Pagon Faust
Will win: Thanks to the current batcrap crazy presidential primary, this year's Academy Awards are only the second most confounding horse race in the country right now. There is, of course, the spectre of #OscarsSoWhiteTheSequel, a story which in all likelihood will outlast any of the winners at this year's awards. With an impressive — and, for some, impulsive — degree of urgency, the Academy's subsequent efforts to diversify its membership will no doubt have some kind of impact on the makeup of future nominees, and future winners. One can only hope, however, that at least one extraordinary aspect of this year's Oscars season won't change: It has been delightfully difficult to predict who will win Best Picture.
In truth, the Best Picture category has been tricky to call for a few years now — 12 Years a Slave and Birdman or (The Unexpected Virtue of Ignorance) were far from slam-dunk frontrunners going into their respective Oscar telecasts. But those years were nothing like this one, in which three movies have each won one of the three guild awards that usually predict the Academy's top prize: The Big Short, a dramedy about the 2008 financial crisis, won the Producers Guild Award; Spotlight, a drama about the Boston Globe team that exposed the Catholic Church's systematic cover-up of pedophiles in the priesthood, won the SAG Award for Best Ensemble; and The Revenant, a period epic about Leonardo DiCaprio battling a bear, nature, and Tom Hardy, won director Alejandro G. Iñárritu his second Directors Guild Award, after nabbing it last year for Birdman.
That means that The Big Short, Spotlight, and The Revenant all have a nearly equal shot at taking home Best Picture — although, each movie also has its caveats, too. The Big Short is a contemporary dramedy that depicts an international news story while routinely breaking the fourth wall. That's a rare kind of movie, period, but the last Best Picture winner to come even close to fitting that description was Annie Hall 40 years ago. Spotlight, meanwhile, is a kind of mirror image to The Big Short: It approaches its ripped-from-the-headlines story with a subtle, sober, straightforward realism — so subtle, in fact, that the film's impact may feel muted in the face of its more outlandish competition. And as Kyle Buchanan explained at Vulture, The Revenant also has Oscar history against it: The last film to win Best Picture without a screenplay nomination was 1997's Titanic, and The Revenant is no Titanic. Plus, no filmmaker has ever directed back-to-back winners of Best Picture.
And, besides, with a field this wide open, who's to say whether the delirious action fantasia Mad Max: Fury Road, the sob-inducing interior drama Room, or the tremendously satisfying sci-fi adventure The Martian couldn't score a shocking upset victory? Remember, Crash won Best Picture — anything could happen! (For those of you who loved Brooklyn and Bridge of Spies, though, let's just be content that they're nominees, because that's likely all those movies are going to be.)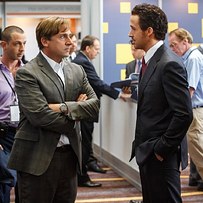 The Big Short
Paramount Pictures
But this is, ultimately, a predictions post, and I've got to pick a movie to win. So, gritting my teeth, I choose The Revenant. It has the most nominations, with 12, indicating the widest Academy support. It also won big at the BAFTA Awards, another strong Oscar bellwether. Its lead actor is a shoo-in (finally), and the Academy has liked to pair Best Picture and Best Actor in the past. And as an epic period drama, it is also the most Best Picture-y movie among the nominees. And yet, if The Revenant does win, it will be almost certainly by the slimmest of margins. According to Vegas, it is the odds-on favorite, but if you're placing any Oscar bets this year, don't be too shocked if a lot of people lose money on this category. —Adam B. Vary
Should win: Look, Mad Max: Fury Road is, no question, my favorite movie of 2015, a blistering blast of maniacal action, deceptively rich characters, and flamethrower guitars that still has me staggering like I stumbled out of a bar expecting to see the moon, only to find the sun had risen. But it would feel like such an anomaly for the Oscars, who reaffirmed their fuddy-duddiness in grand fashion this year, to go with a gloriously anarchic action flick that surely bewildered plenty of the Academy's voters. I'm just tickled to see George Miller's movie up there at all.
The ideal Best Picture winner would have been Creed, Ryan Coogler's deftly directed, quietly revolutionary rebooting of the Rocky franchise that's far deeper in viewing than it is in logline — but it wasn't even nominated in this weird, embarrassing Academy Awards iteration. So instead, I'd give the prize to Spotlight, Tom McCarthy's ode to journalism at its most effective and least glamorous, a movie that is uncool in all the best ways. It's got a star-filled cast but is a true ensemble picture, its characters laboring toward a common goal that doesn't stop them from sometimes jostling against each other along the way. And, at a time when movies have been flogging "chosen one" fantasies like they're the only option in cinematic escapism, Spotlight is a story that's markedly all about work, about collaborating, knocking on doors, making calls, putting together spreadsheets, and doing things right. It's a testament to not skipping to the end, to how interesting and essential process can be, especially when the journalistic process ends up exposing decades of systemic abuse and changes the world's relationship with a massive institution. It's the perfect Oscar movie because it mostly eschews obvious Oscar-y moments and still manages to feel urgent, significant, and moving. —Alison Willmore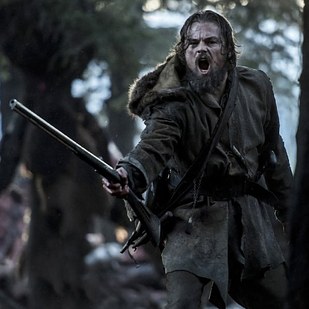 Leonardo DiCaprio
20th Century Fox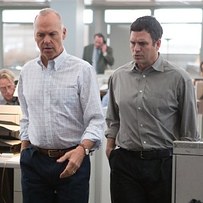 Spotlight
Open Road Films
Nominees
Lenny Abrahamson, Room
Alejandro G. Iñárritu, The Revenant
Tom McCarthy, Spotlight
Adam McKay, The Big Short
George Miller, Max Max: Fury Road
Will win: If Ridley Scott had been nominated here, then he would have easily been a favorite to win his first directing Oscar, as much for his career and the high esteem he holds in the industry as for his fine work on The Martian. I could easily see the same kind of argument for George Miller, in large part because his work on Mad Max: Fury Road feels like a true culmination of his career.
But Alejandro G. Iñárritu won the DGA Award, and in the previous 10 years, the DGA winner has also earned the Best Director Oscar every year save for one, when Ben Affleck won for Argo after the Academy didn't nominate him at all. There is no denying the astonishing technical craft behind The Revenant, either, so expect him to make Oscar history as the third back-to-back winner in the Best Director category since Joseph L. Mankiewicz won for 1949's A Letter to Three Wives and 1950's All About Eve, and John Ford won for 1940's The Grapes of Wrath and 1941's How Green Was My Valley. (And to be clear, A Letter to Three Wives and The Grapes of Wrath did not win Best Picture in their respective years, so should The Revenant win Best Picture this year, Iñárritu would still be the only filmmaker to have directed back-to-back winners of Oscar's top prize.) —A.B.V.
Should win: Now, this is the prize that should go to George Miller — who, incidentally, is already an Oscar winner. Here's how varied the Aussie filmmaker's career has been: Of the past four Academy Award nominations Miller's gotten, the one he went on to win was for Best Animated Feature in 2007, for the adorable penguin musical Happy Feet. A trophy for the very lovable but not the least bit adorable Mad Max: Fury Road wouldn't just look terrific/hilarious next to that, it would also be well-deserved, because the movie is a mind-boggling directorial achievement, a monument to visual storytelling.
If you've ever needed proof of the value of practical effects in the era of omnipresent CGI, you need only look to Mad Max: Fury Road's wild stunts, automotive and otherwise, which have a heft to them that has everything to do with the fact that they involve actual bodies flying through the air and actual armored, spike-adorned vehicles churning through the dust. Then there are the performances Miller allows to glimmer through the earth-rending pursuit scenes with surprising nuance: the haunted look in Charlize Theron's eyes that telegraphs Furiosa's years of trauma; the ways in which the wives, introduced as a collection of objects of lust in diaphanous outfits, quickly distinguish themselves as stubborn, angry, frightened individuals; and the near wordless understanding that forms between Furiosa and the hero of the title while on the run, two platonic, hyper-competent soulmates meeting at the end of the world. It's not a grand romance — it might be something better. —A.W.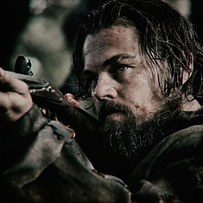 The Revenant
20th Century Fox
Nominees
Cate Blanchett, Carol
Brie Larson, Room
Jennifer Lawrence, Joy
Charlotte Rampling, 45 Years
Saoirse Ronan, Brooklyn
Will win: There was a fleeting moment when Charlotte Rampling was seen as a real contender in this category for her exquisite and devastating performance in 45 Years. Then she made some really unfortunate comments about #OscarsSoWhite — about which she expressed regret, and for which she apologized — and her chances at the Oscars evaporated in a storm of angry tweets and think pieces.
Cate Blanchett won Best Actress for Blue Jasmine too recently, and some — wrongly! — think her performance in Carol is too similar. Jennifer Lawrence's strong performance in Joy is that deeply flawed movie's only nomination (and likely wouldn't have happened if the Academy had refused to buy into the awards season fiction that placed Alicia Vikander's and Rooney Mara's leading performances in The Danish Girl and Carol, respectively, in the Best Supporting Actress category instead). Saoirse Ronan does miraculous work in Brooklyn, but she has been a perpetual runner-up all awards season.
And that's because Brie Larson has won just about every award she could for her complex, impossible-to-forget performance in Room. She's been a grounded, gracious presence throughout the awards circuit. Expect her to win. —A.B.V.
Should win: The Best Actress race is so much stronger than Best Actor this go-round that it deserves a special salute. As with the other acting categories this year, this isn't exactly a diverse group — age makes Charlotte Rampling, who's 24 years older than the 46-year-old Blanchett, the closest thing to an outlier — but it's a goddamn talented one, regardless. Any of these women would be a respectable winner, even if Jennifer Lawrence is good despite Joy rather than because of it. But it's Brie Larson who deserves to come out on top, for all of the pain and love she puts into the character of Joy Newsome, a young woman refusing to buckle under the weight of having her life stolen from her.
Larson transmits the soul-deep exhaustion and distress her character feels to the audience while keeping up a steady, smiling front for her son (Jacob Tremblay), who's never known life outside of their prison and has no idea what he's been denied. She embodies both a fierce parent and a frightened young woman who was only a teenager when taken. Jack and his Ma may be in their situation because of their captor, but the existence they carve out for themselves is defined by them, not by him, and that's thanks to the ways in which Larson's character has seized the narrative. She willed the film's fragile, self-contained universe into being. —A.W.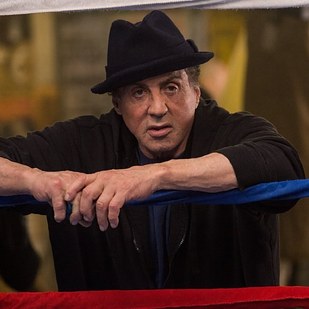 Sylvester Stallone
Warner Bros. Pictures
Nominees
Bryan Cranston, Trumbo
Matt Damon, The Martian
Leonardo DiCaprio, The Revenant
Michael Fassbender, Steve Jobs
Eddie Redmayne, The Danish Girl
Will win: Barring catastrophe — like the world ending — Leonardo DiCaprio will finally, finally, finally win his first Academy Award. It helps that his competition this year is less than robust, in that none of the other nominees had to wear a hideous beard for nearly a year, eat raw bison liver, and strip naked and step inside a disemboweled horse carcass for warmth. So you might as well start planning your Leo-wins-an-Oscar memes now, because this is happening. —A.B.V.
Should win: This set of nominees — four of whom are playing versions of real people, which speaks to how staid the category is this year — is so boring, I almost don't want to pick a winner. But since that's the point of this post, I'll give Michael Fassbender the edge for Steve Jobs, a movie that was universally shrugged off as a Social Network retread. I liked it more than most, and Fassbender's moody, mercurial portrayal of a genius did something that none of the other performances here attempted: He challenged the audience to figure out if they really wanted to root for his character. —A.W.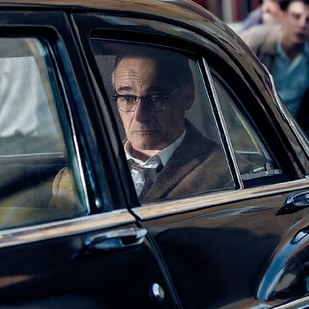 Mark Rylance
DreamWorks Pictures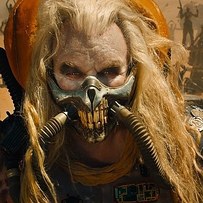 Mad Max: Fury Road
Warner Bros. Pictures
Powered by WPeMatico