These 8 Sundance Breakouts Are Too Awesome For Words, But We Tried
These actors and filmmakers blow our hair back.
The 2017 Sundance Film Festival in Park City, Utah, has drawn to a close, but these actors and filmmakers may have much bigger things ahead of them.
Nnamdi Asomugha, actor and producer, Crown Heights
Lakeith Stanfield, Natalie Paul, and Nnamdi Asomugha are all excellent in the film Crown Heights, which is based on the This American Life segment about the real-life wrongful imprisonment of Colin Warner. Much like Making a Murderer or The Night Of, Crown Heights depicts how grueling and unfair the criminal justice system in America can be. While Stanfield embodies the overwhelming dread that comes with trying to prove one's innocence from a prison cell, Asomugha (Carl King) both as actor and producer makes sure to explain the great lengths Carl went in order to help free Colin. At times he's a lawyer, a detective, a complicated father; but overall Asomugha's portrayal reveals what it is to have unconditional love for a friend in a story that proves ordinary people can still beat a system meant to break them. —Marcus Jones
Ryan Kobane / 2017 Sundance Institute
Abby Quinn, actor, Landline
Landline — the follow-up to Jenny Slate, Gillian Robespierre, and Elisabeth Holm's collaboration on Obvious Child — has '90s charm and a winsome cast including Edie Falco, Jay Duplass, and John Turturro. But it's 20-year-old newcomer Abby Quinn's Ali who steals the show.
The movie follows two sisters (Quinn and Slate) in 1995 Manhattan, trying to figure out whether or not their father is having an affair. Quinn navigates her onscreen persona's selfish, annoying adolescent behaviors with ease — saying "fuck" just to piss off the adults, slamming doors, calling her sister the human equivalent of constipation. However, she also grounds her with a unique old-soul quality. One minute she's strumming a guitar, improvising a dirty song with her very real musical talent, and the next she smokes a cigarette while cradling her mom on the bathroom floor.
Quinn captures what it's like to be a teen going through a family breakup; sure, you want to escape and go clubbing and shove dangerous powders up your nose to forget, but at the end of the day, you still have to go home and deal. —Keely Flaherty
Jojo Whilden / Courtesy of 2017 Sundance Institute
Adam Long, actor, When the Street Lights Go On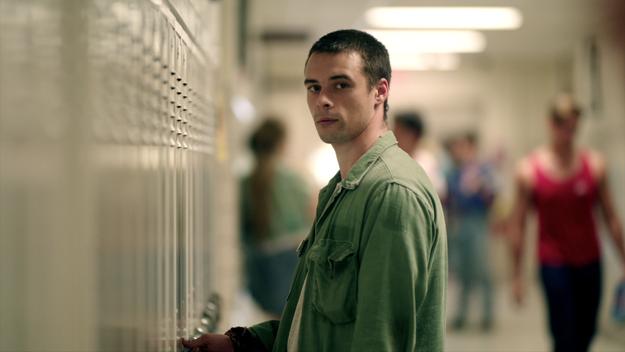 In the pilot for Brett Morgen's debut narrative TV show, Adam Long (Happy Valley) plays bad boy Casper, who may or may not be connected to the murder of two people in a small Illinois town. He scares the shit out of me. —Katie Hasty
Anonymous Content
---
Powered by WPeMatico